Experience the future of networking
Connect with ease and leave a lasting impression – all with just a Tap! Your Smart Digital Business card, always at your fingertips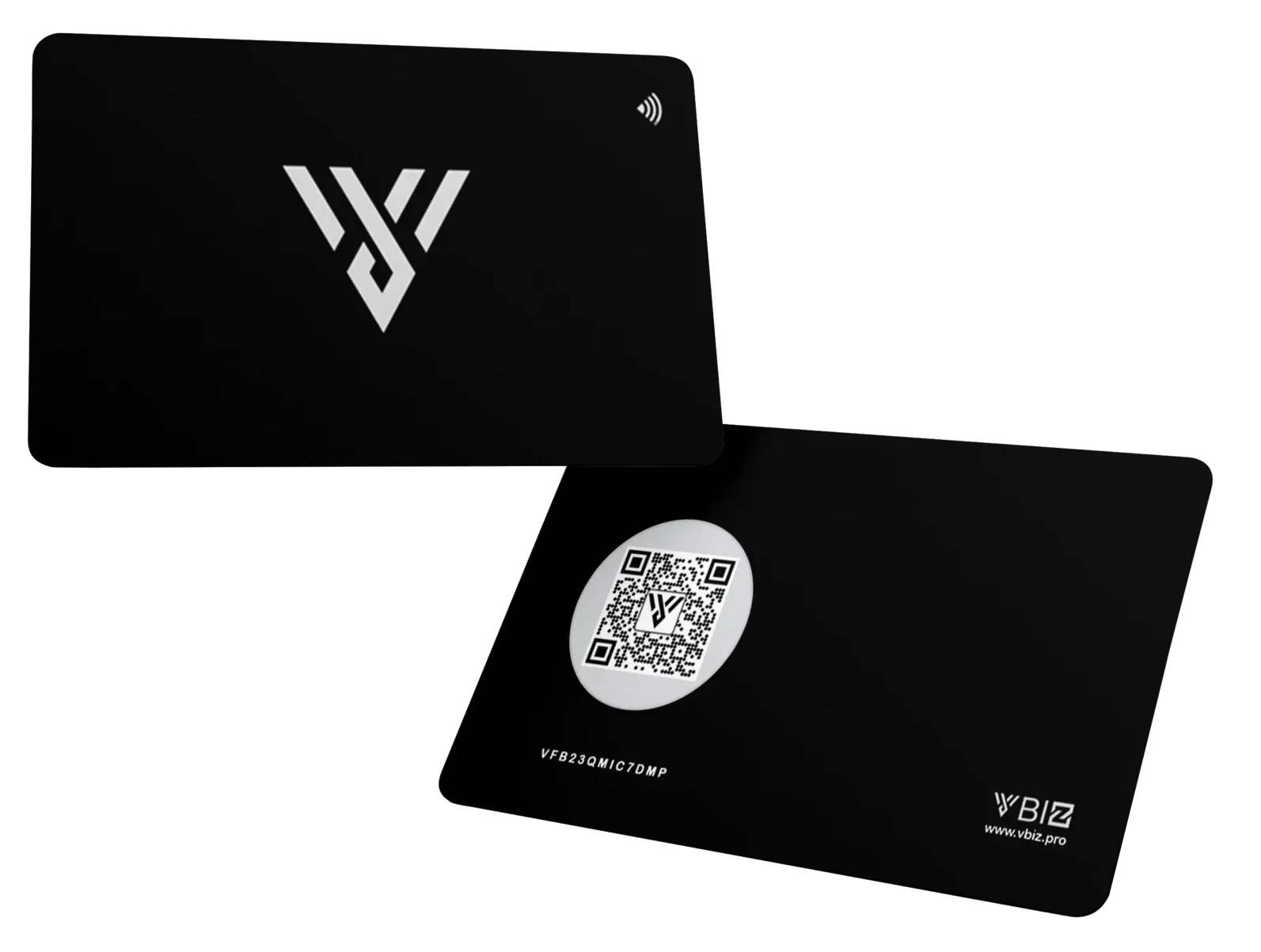 Experience the future of networking
Connect with ease and leave a lasting impression
All with just a tap! Your digital business card, always at your fingertips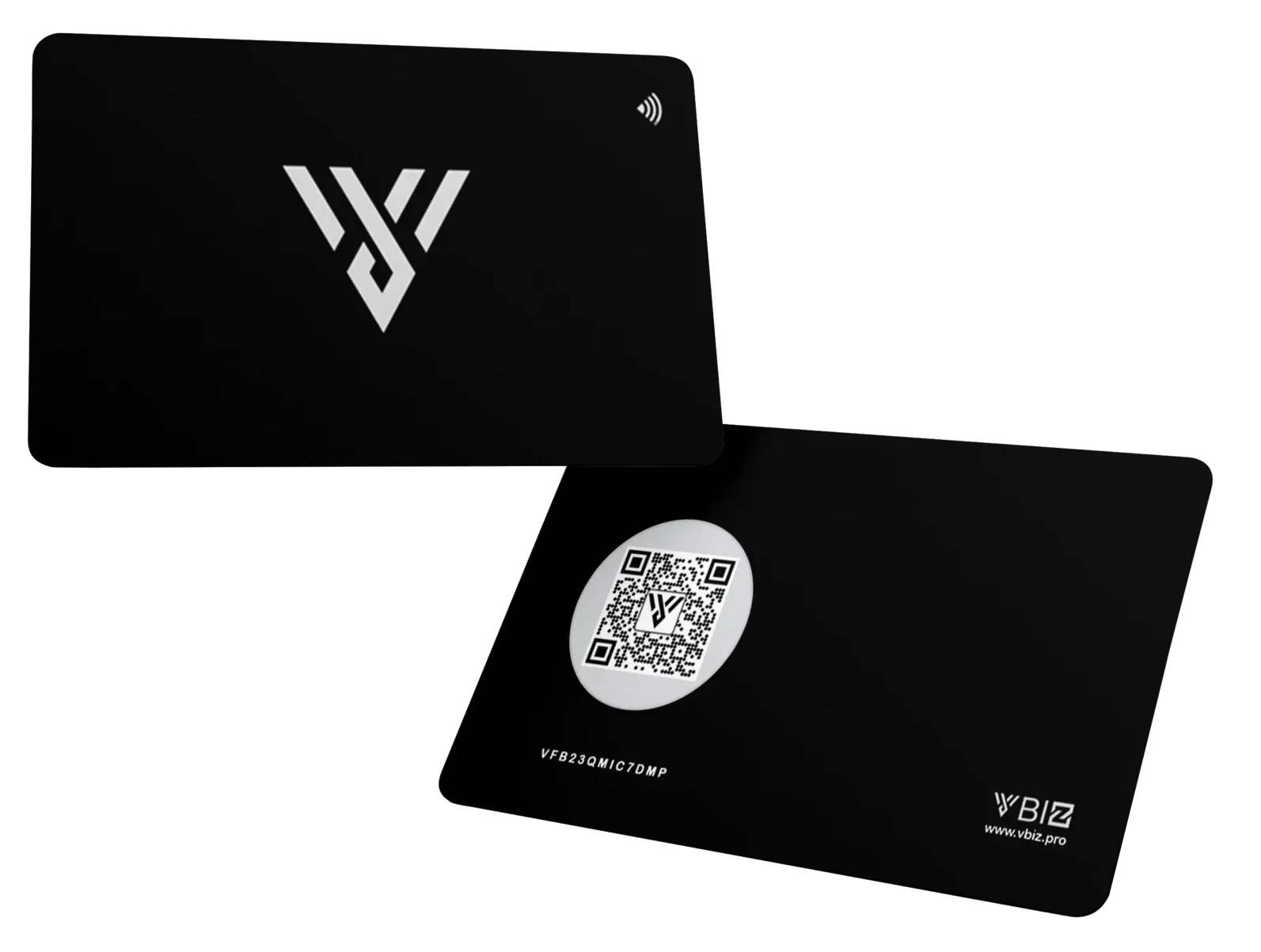 Make networking effortless with a digital business card
Easily updated
Vbiz Smart business cards can be updated quickly and easily, ensuring that your contact information is always up-to-date. This can be particularly beneficial for businesses that frequently change their contact details
Eco-friendly
Vbiz Smart business cards are environmentally friendly as they do not contribute to paper waste. This can appeal to clients who value sustainability and environmental responsibility.
Cost-effective
Vbiz Digital business cards are a cost-effective solution as they eliminate the need to print and distribute traditional paper cards. This can be particularly beneficial for small businesses and startups with limited budgets
Enhanced functionality
Vbiz Digital business cards include interactive features such as clickable links, social media profiles, and videos. This can help businesses to showcase their products or services in a more engaging and interactive way
Business Card Evolution
You might have already used recycled paper to print your business card to help save the environment, but it would do little to change the underlying system that caused 6 billion business card being printed and then wasted every year. The time to re-invent business card is now!
Instant Transmit of Your Contact Info
Rest assured that next time when you call, your client will know that it is you!
Remind Them Who You Are
Include your image, brochure, social media and more, so they can learn more about you directly from their contact list on their phone.
Save Full Contact Detail
No one would type in all the detail from your business card onto their contact list. Save all your details onto their phone so they can view your profile whenever they want.
Compatible with any device and platform
VBIZ Digital Business Cards are compatible with any devices running iOS, Android, Windows and Linux. You can use the Smart card on any NFC-enabled mobile phone for contactless sharing.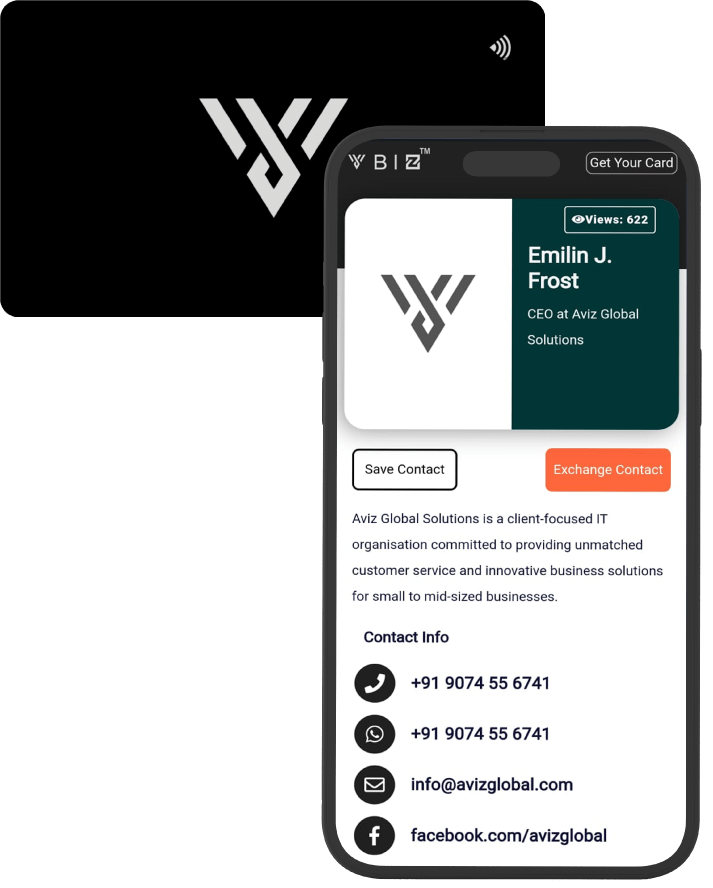 Next Generation
of Business Cards
Time does not stand still, and along with it, technologies and ways of interaction between people change. We have prepared not only a worthy replacement for standard business cards, but also changed the very approach to the exchange of contact information.
Previously, you needed to make hundreds of paper business cards in a printing house, which took up space in your wallet, and after use they were usually thrown away. The time of paper has passed and now your wallet can contain only one or several business cards for all occasions.
Make networking effortless
Vbiz.Pro Cards are built with the latest NFC technology. This allows you to share your contact details, social media profiles & much more by tapping your card off a phone.
Your details can be saved instantly to the receiver's phone when the 'Save Contact' button is clicked. You can also receive leads with the 'Enquiry / CRM' Form.
Vbiz Pro comes with a powerful Dashboard. Update your details at any time by logging into your profile. You'll always be up to date.
No App is Needed.
Works on iOS & Android.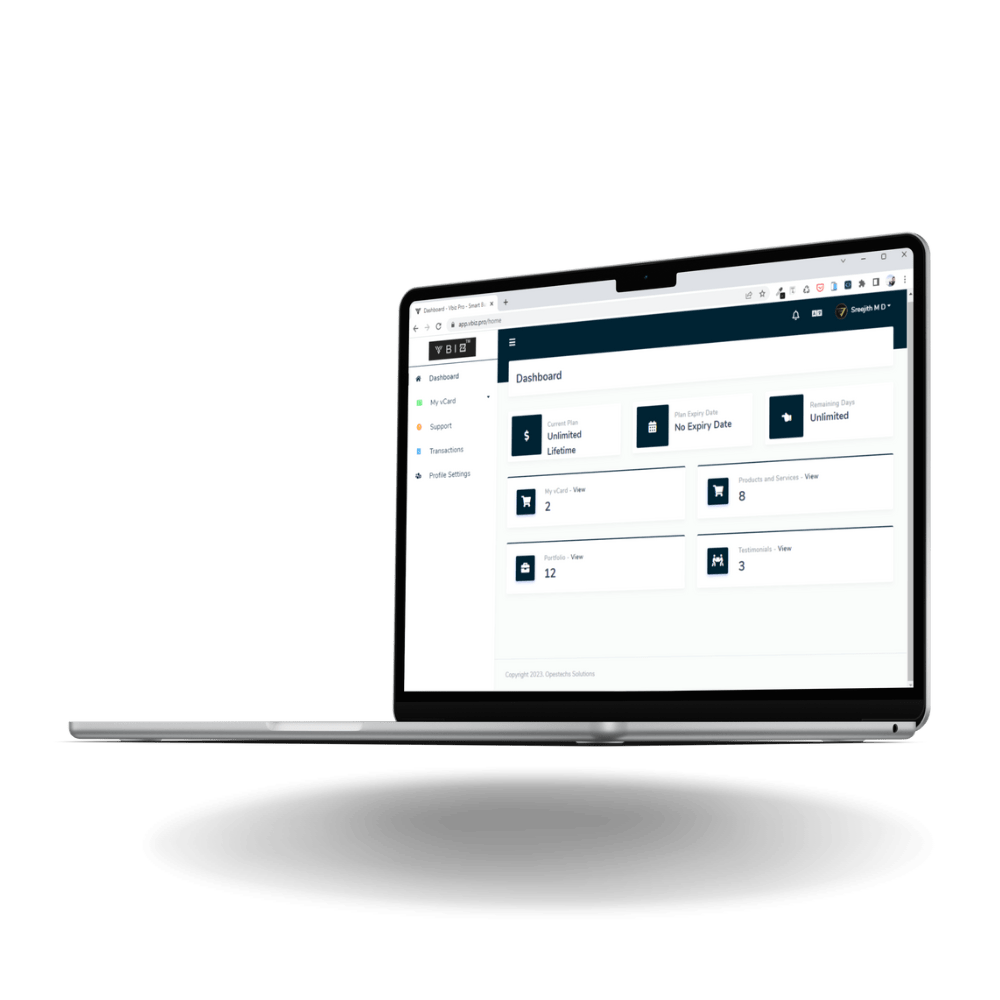 frequently asked questions (faq)
What is Vbiz.Pro Smart Business Card?
Vbiz.Pro Smart Business card is an NFC Chip integrated credit card-sized high-quality PVC Card that lets you instantly share your Contact Numbers, Email Ids, Social Media Profiles or details about your Business Services / Products or whatever information with the person you meet by just tapping the card to their NFC enabled Smart Phone.
How does Vbiz.Pro Card work?
Vbiz.Pro Cards use NFC technology. NFC stands for "Near Field Communication" and enables short-range communication between NFC-enabled devices (the Vbiz Card and a smartphone).
Does the other person need a Vbiz Card or any App to receive my info?
No! The other person does not need an application to receive your contact details. Tap your Vbiz Card or have its QR code scanned to make your info instantly appear on the receiver's smartphone.
What if my client has a phone without NFC?
Vbiz.Pro Smart Cards come with an advanced QR Code. Your Client can simply scan the QR Code with their non-NFC devices /phones to fetch and open your Digital Business card in their browser. You can even share your Digital Business Card to their WhatsApp or Email directly.
How do I update information on my card?
Once you buy Vbiz.Pro Smart Cards, you'll get access to the dashboard, where you can add and modify the information stored on your cards. Once you make a change on the dashboard, it will synchronize with your card instantly. You can adjust your details when you need them, as many times as you want. You have full control over your Digital Business Card Portfolio.
Is the card environment-friendly?
Yes, we do consider our cards to be environment-friendly. They're made of high-quality PVC with an integrated NFC Chip, can last up to 10 years, and are recyclable. But most importantly, they're reusable.
Each year 100 billion business cards are produced worldwide, leading to the potential loss of around 6 million trees. Perhaps more shocking is that within a week after receiving a business card, almost 90% of them are thrown away and will end up in a landfill.
Let's start the move and say goodbye to single-used business cards!
Can I manage multiple cards under one account?
Yes! With our Team plan, you can purchase as many Vbiz Smart  Cards as you need, manage them from one place, and assign them to different people or businesses. 
One of my employee resigned, can I still use their Vbiz Card?
Yes, most certainly! If your employee resigned or you hired a new one, you can easily reassign their cards. Simply edit the information through the dashboard. That's the magic of a Vbiz Smart Business Cards.
How can I track my order?
We ship cards (vbiz branded cards) the next business day after receiving an order. Once we dispatch your order, you will receive an email from the Vbiz team with your tracking details. Custom branded Cards or Vbiz Cards with your Name printed shall take up to 10 -14 days to get dispatched.